Ipswich and South Suffolk School Games have teamed up with the FA and the Youth Sport Trust to be part of the national Girls' Football School Partnerships programme supported by Barclays. We are one of 153 programmes across England this academic year and are very excited to be involved. 
The national ambition is that by 2024: 
75% of schools across the country will have girls' football on their curriculum
90% of schools will be providing curricular and/or extra-curricular girls' football
 Our role will be to provide strategic leadership to: 
help create the opportunity for every girl to have equal access to football in school by 2024
embed a connected infrastructure to 'mainstream' girls' football
create sustainable transformational change for a generation of females
To do this, we have a steering group made up of local partners including primary and secondary school teachers, Suffolk FA and Active Suffolk. This group will help contribute towards achieving equal opportunities for girls to access football by working together to meet the programme's KPI's.
 We will be offering a range of exciting opportunities in the following areas: 
Curriculum– Supporting the delivery of football within the PE curriculum in schools  
Participation– Providing more opportunities for girls to play football outside of PE lessons
Competition– Increasing the opportunities for girls to compete in football and reviewing the current framework
Leadership– Inspiring the next generation of football leaders
Football Pledge– Encouraging schools to sign up to pledge their support for providing equal opportunities for girls in football
The programme is also supported by Disney and will give schools access to a range of exciting resources themed around some of the latest Disney franchises. Resources will include:
 The FA Shooting Stars (Primary)
Active Play Through Storytelling– has been developed to support girls aged 5-8 in developing their physical literacy, speaking and listening skills through creative play and storytelling. The resources are designed to achieve the learning objectives based on Key Stage 1 Literacy and PE.
Girls' Football Club– has been developed to truly capture the imagination of Primary age girls, using super-human powers, high-tech gadgets and superheroes. There are resources available for both Key Stage 1 and Key Stage 2.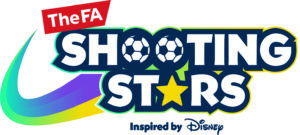 Game of Our Own (Secondary)  
 Game of Our Own: Teacher– supports teachers to engage girls' in curriculum PE through a life skills approach, using football as the vehicle.
Game of Our Own: Leadership– encourages and offers girls the opportunity to learn to lead and then practice their leadership skills by delivering opportunities for their peers to participate in football.
For further details, please contact Ali Furlong on 01473 466160, mobile 07715800936 or email alison.furlong@westbourne.attrust.org.uk
 For details of this national programme click here.